What I see in Nature is a magnificent structure that we can comprehend only very imperfectly,
and that must fill a thinking person with a feeling of humility.
This is a genuinely religious feeling that has nothing to do with mysticism.
Albert Einstein
La Vérendrye Reserve
My favourite canoeing place outside of the Barrenlands. It's quiet, peaceful and definately not crowded. There are circuits for all types of canoeing. Many large lakes are very kayak friendly. Some canoeing circuits have minimal portages. And for the more experienced canoeists looking for a more rugged experience, there are lots of quality back-country circuits that will take years to explore. The solitude for solo canoeing is perfect and why I like La Vérendye so much.
A hazy morning on Circuit 77
Click to enlarge - 28k.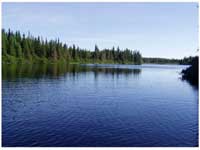 An evening paddle down Riviere des Outaouais on Circuit70.
Click to enlarge - 28k.

Except for opening weekend and the August long-weekend, I have many areas all to myself - or at the most, shared with a few other canoeists. On a 6 day trip into what was billed as "regularly canoed", I met one other canoe during the entire time. On most back country trips, I'm surprised to see anybody at all!
The people at Le Domaine are absolutely fanstastic, bilingual and very helpful.
There is a booklet describing each pre-determined route, complete with difficulty, number and length of portages, a brief description of the route and even the topo map numbers. It's a great planning tool and can be ordered directly from Canot-Camping.
Even the rainy days are good
Click to enlarge - 28k.
There is also a series of maps (Cartes) 1 through 6, that are based on 1:50,000 topos. Each map shows a series of circuits detailing specific routes, the portages and the campsites.They are a must have.
As well, each campsite is marked with route and camp number. A marker such as 3 16-43 would mean campsite #43 on circuit 16 and large enough for 3 tents.
These maps are indispensible, take the place of topos for most Circuits, and even cost much less. When I stop at Le Domaine, I don't forget to update my maps. Portages, campsites and the occasional route can change from year to year. The Canot-camping team are doing their best, with minimal funds, to provide a great canoeing and camping experience. So thanking them when stopping in to pay those very inexpensive fees is a good idea.
Check out their website. It has great info including a "Circuits" section that gives a route description and basic data for each.
Two quick caveats. Fishing boats will be seen during opening weekend, but only occasionally thereafter. And, unfortunately, the Reserve closes in early September to make room for moose hunting. So we have from mid-May to the first of September to spend some of the best canoeing within an easy drive of Montréal and Ottawa.
Canot-campingLa Vérendrye website